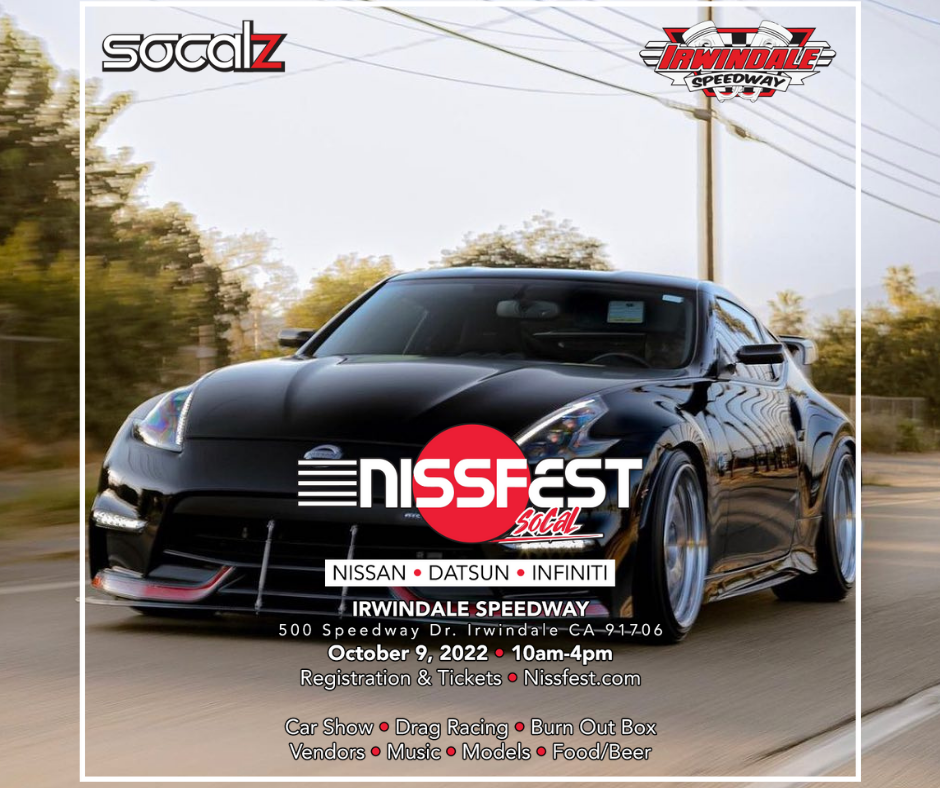 Welcome to Nissfest! We strive to bring the Nissan, Infiniti and Datsun community to one location and celebrate the cars we love!
Together as enthusiasts we take pride in our cars and passions for driving and displaying them.
We want everyone to come hang out, enjoy cool cars, meet other enthusiasts and have a memorable time.
Mark your calendars for October 9, 2022 Start time 10AM-4PM and come be apart of the festival!
Nissan & Nismo
Infiniti & Datsun
Live Music
Models
Rev Competition
Stance and Performance
Awards and Prizes
Vendor Booths
Biggest Nissan Event Of The Season!
Car Show
You're here because you love JDM Cars right? Nissfest Offers a worldclass car show experience like no other. Checkout the hottest Nissan, Infiniti, Datsun builds and more!
Drag Racing
Register today for the Nissfest Drag Racing showdown. See if you have the fastest Nissan in SoCal. 
Drifting
Show off your drifting skills in the Irwindale Burnout Box. Exhibition Drifting only competition. See Nissfest Formula Drift Suprise Special Guests also in shredding tires in the burn box.
Vendors
We have Vendors!!! Buy Car Parts and Accessories from Nissfest Vendors and get access to steep discounts and first issue products. Dont forget to visit the Official Nissfest Booth for Event Apparel.
Models
Whats a car event without Models? Nissfest has some of the most followed Instagram Car Models and Influencers in attendance. Meet and Greet or have your picture taken with a variety of car models.
Music
Nissfest Showcases Live Music and DJ Apperances from some of the Hottest acts. Get backstage passes to to meet artists and DJs and purchase exclusive event Music downloads and clips.